Futurama Math
Mathematical Backgrounds of Futurama Writers

You can browse Episodes of Futurama by Writer

J. Stewart Burns graduated magna cum laude with a bachelor's degree in mathematics from Harvard University in 1992. His senior thesis was on "The Structure of Group Algebras." He received his master's degree in mathematics from UC Berkeley in 1993.

David S. Cohen (David X. Cohen) graduated magna cum laude with a bachelor's degree in physics from Harvard University in 1988. He received his master's degree in computer science from UC Berkeley in 1992. He published the following article with Manuel Blum: On the Problem of Sorting Burnt Pancakes. Discrete Appl. Math. 61 (1995), no. 2, 105--120. His comments about his career as a scientist can be found below and in A Futurama Math Conversation with David X Cohen.


Ken Keeler graduated summa cum laude with a bachelor's degree in applied mathematics from Harvard University in 1983. In 1990, he received his Ph.D. in applied math from Harvard University. The title of his doctoral thesis was Map Representations and Optimal Encoding for Image Segmentation. He also published the following article with Jeff Westbrook: Short Encodings of Planar Graphs and Maps. Discrete Appl. Math. 58 (1995), no. 3, 239--252. A Futurama Math Conversation with Ken Keeler Additional comments about his career as a mathematician can be found below and in A Futurama Math Conversation with Ken Keeler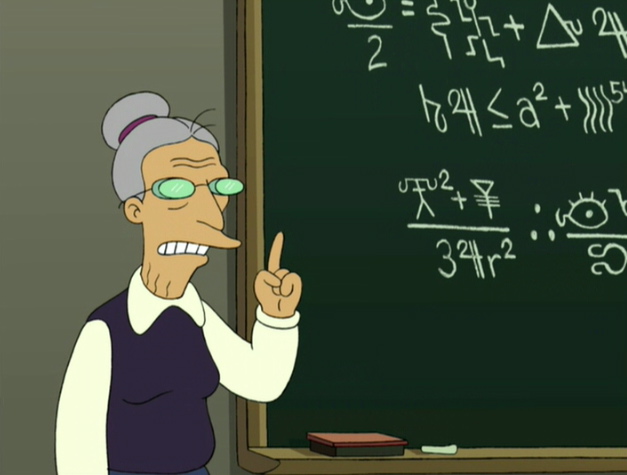 Ancient Egyptian Algebra
Season 1 DVD 1ACV06

Bill Odenkirk has a PhD in inorganic chemistry from the University of Chicago in 1995.

Jeff Westbrook majored in physics and the history of science at Harvard University and he received his Ph.D. in computer science from Princeton University in 1989. The title of his doctoral thesis was Algorithms and Data Structures for Dynamic Graph Algorithms. He was an Associate Professor in the Department of Computer Science at Yale University and also worked at AT&T Labs before writing for Futurama. He published the following article with Ken Keeler: Short Encodings of Planar Graphs and Maps. Discrete Appl. Math. 58 (1995), no. 3, 239--252. His comments about his work can be found below and in A Futurama Math Conversation with Dr. Jeff Westbrook.

Excerpt taken from Can't Get Enough Futurama Interview with Ken Keeler reprinted with permission of Marc Wichterich Excerpts taken from frontwheeldrive.com's interview Futurama's Head (in a Jar) David X. Cohen reprinted with permission of Tom Georgoulias As mentioned in Futurama is History by Kevin Williamson, David X. Cohen still belongs to a math club: " I scheduled something else -- a meeting of my math club... This group of TV writers, we're interested in math and we get together to talk about it."



Excerpt taken from Home page for Westbrook





Dr. Sarah J. Greenwald, Appalachian State University

Please send additions or corrections to greenwaldsj@appstate.edu


Legal Notice: Futurama TM and copyright Twentieth Century Fox and its related companies. This web site is for educational use only. We do not benefit financially in any way from this web site. The images on these pages were taken from episodes of Futurama that are copyrighted by Twentieth Century Fox. We will not distribute audio, video or image files.
Disclaimer: This web site, its operators, and any content contained on this site relating to Futurama are not specifically authorized by Fox.